It's birthday month in our family and I did the one thing I promised I wouldn't when we first found our our youngest was due the same week as our oldest's birthday - I combined their celebrations. I really didn't feel like doing anything, this is my third "first birthday" in four years and I'm kinda over it all. But I couldn't
not
throw a party for Julia. Especially since she may read this blog one day, and she'll certainly look at pictures, and see her brother's parties (here and here). And then I couldn't throw a party for Julia, and travel home to PA to visit friends and family, without giving a nod to Jack's birthday. Of the two, he's the one that was actually aware of the significance of this month. He's only been talking about "Ogtober 12" for weeks and weeks now.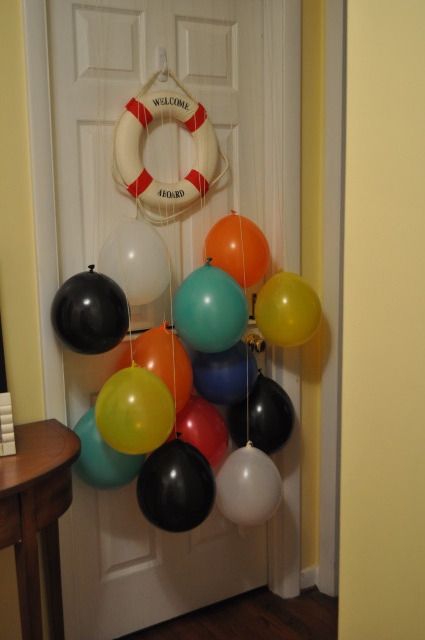 Jack's birthday morning surprise.
So we threw a party for Julia and added a little line for Jack at the bottom of the invitation.
Yup, that's an electronic invite... and I emailed it out less than two weeks before the party. I was totally on the ball this year.
A few people wanted to know what the party theme was. There wasn't a party theme. Perhaps we should use the word influence, and that would have been: tea by the sea, Portsmouth, England, 1813. I know, I know, me and my nautical themes. And I decided to go with a blue and yellow palette, since I wanted to use what I had on hand. No pink, no purple, apparently I haven't had enough blue these past four years.
Since we were still setting things up when the guests started to arrive, I did a very poor job of documenting the decor.
It was fun to
plan out my ideas on Pinterest
. I wanted to utilize as much of my own resources as possible - my set of Blue Willow dishes, a dress that Marmie had picked up at a yard sale last year, a headband I made from material scraps, tablecloths that I had around the house and food that would be easy to make or buy. In the end, the only thing I ended up buying was material, and a significant portion of that is destined to be turned into a valence in our living room.
I always say I'm going to keep things low-key and yet we still ended up with over 30 people that stopped by. I specifically avoided meal time so I could get away with less food. Okay, that's not entirely true. 10:00am actually worked best with Julia's napping. But it also meant we could do brunch foods and I gotta say, quiche is so delectable in miniature form.
And of course, Marmie made the cakes.
Jack specifically requested a dump truck with dirt.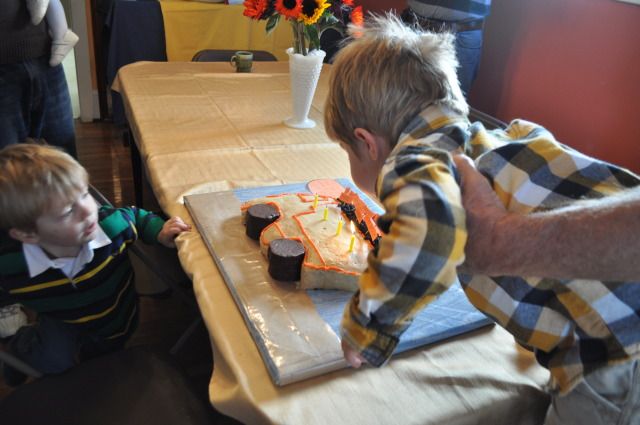 And thankfully my brother Micah graciously opened up his home to our party and guests. His house is a great central location for both of our families and he's always happy to host friends for the day! I'm sure it's not easy for a bachelor to clean and prep for guests, plus he helped me by picking up some of the food the morning of the party. Oh yeah, and he also raked up this big pile of leaves as a place for the kids to burn energy. I think it was a success!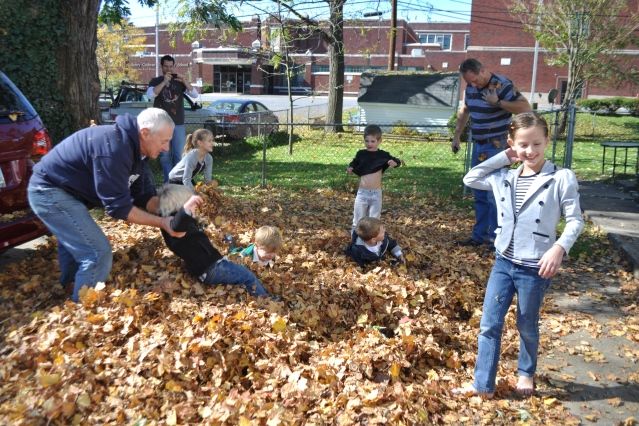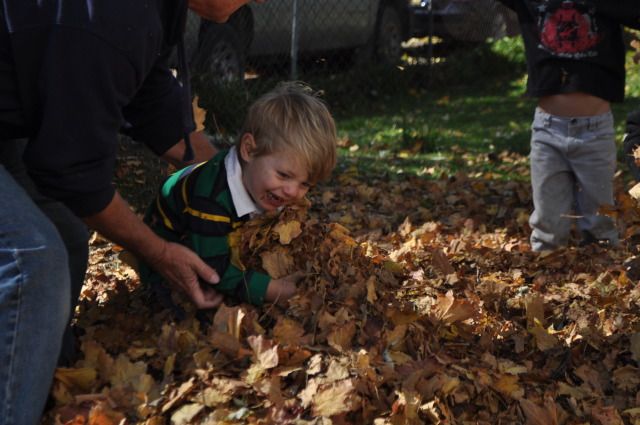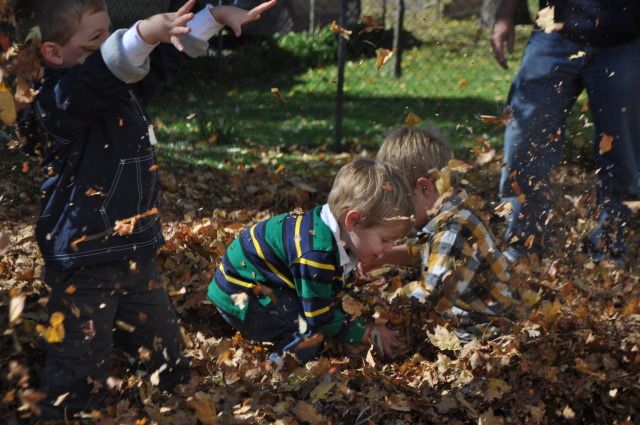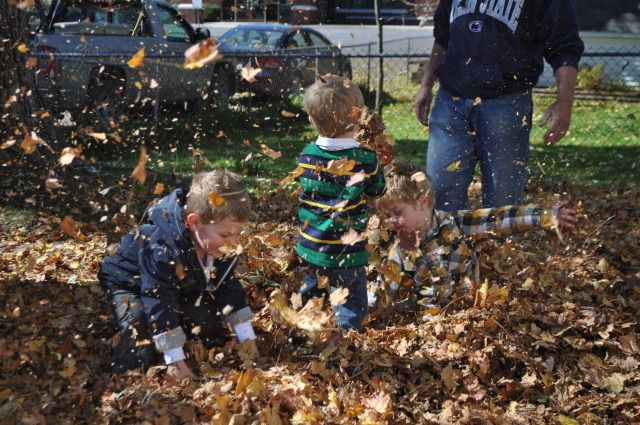 Present opening is always a bit crazy, times that by two and it was nearly chaos. I was just trying to unwrap toys fast enough that each of the kids quickly crowding in would have something to occupy them and stop fighting over the first thing that got opened!
Thank you Uncle Micah for the Billy Bob binky.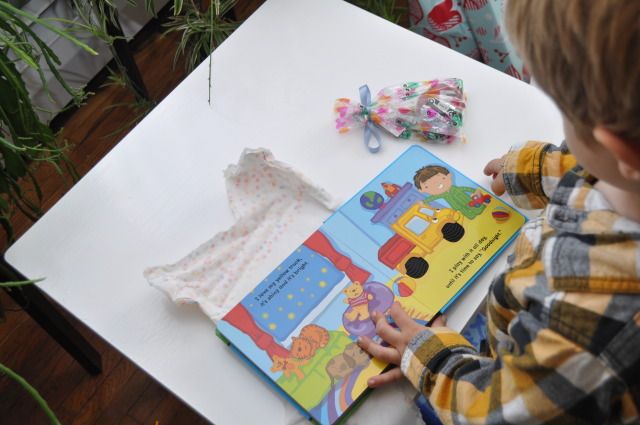 Funny story about this doll...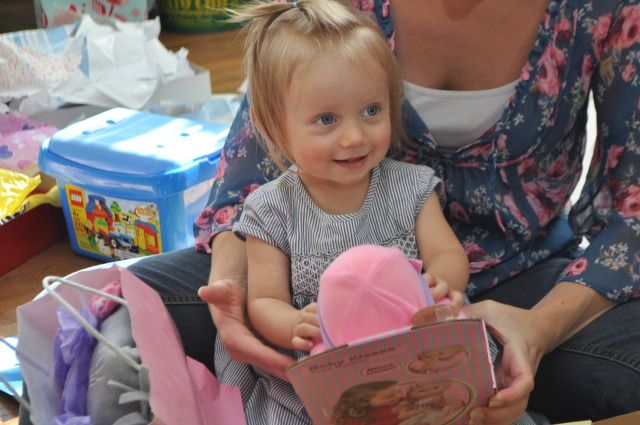 Girlfriend was being all sweet on her. Lovin' up on dolly, giving hugs and big, drooly open-mouthed kisses.
Then I turn around and the next thing I know she's got a little plastic knife and is literally trying to saw Baby's arm off. Like actually making sawing motions on the dolls arm. And then she starts stabbing Dolly in the eye.
All I can say is, it's a good thing Lia's got some baby dolls now because she could definitely use a little practice in the caretaking department.
So we survived gift-giving and the resulting toy explosion. I think we even got away without leaving any small pieces behind. And we partied. At the end of the day we met my goal, and that was to celebrate the life of my little girl and big boy. They're pretty cool kids.
And I think that should be enough first birthday parties for a while now ...