Well this day is a bust. It started at 4am, when Julia woke up for no known reason. This has been happening more and more frequently. I try to let her work it out on her own but that just seems to prolong the agony, because it involves me lying awake listening to her whine and whimper and toss and turn. So I go to her and she's immediately happy. And then I end up nursing her because that's the fastest way to get us both back to sleep. I stumble back to bed and it seems like I've just drifted off when Jude starts yelling "Poooooops, Mom! I've gotta go pooopss!!" Really? Who gets bowel movement urges before the sun is even up? I've never heard of such a thing. Of course he's wide awake, and jumping and loud-whispering and flushing which captures his little sister's attention and the next thing Jon knows is he's getting poked in the eye by his 2 year old and serenaded by giggles from his 1 year old, who are both smothered between us in "Mommy-Daddy bed." And that my friends, is a good morning.
Things have been going downhill ever since. Jack somehow managed to fall backward off the arm of the couch. Jude got hit by a flying miniature folding chair. Julia refused all three of my attempts to put her down for a morning nap. And everyone has been just plain cantankerous. Take morning devotions, for example. I got two sentences into it and Jude is sobbing at my knee, trying to climb up on my lap, and Julia has a death grip on my sweatpants (yup, it's been a sweatpants kinda day) and is doing that whining/dancing move she does when she so desperately wants to be held. And the only one who's being quiet, strangely quiet, is Jack who is mixing some sort of concoction with his oatmeal and whatever other objects he can find within arms reach.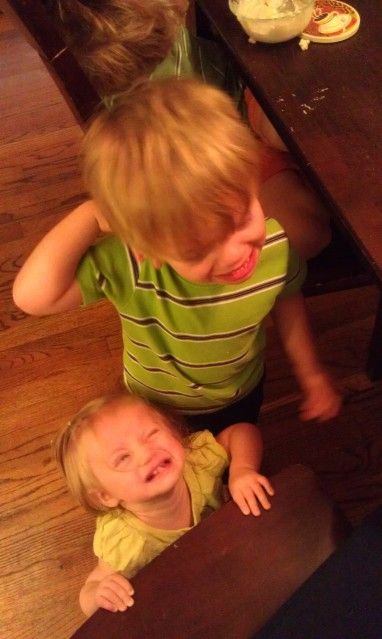 Morning devotions, or what some people like to call "quiet time."
It's comical, I know laughter is the best medicine but honestly, this morning I just wanted to find a quiet corner, cover my ears and scream for a few minutes. Instead, I muddle through. Counting the hours til naptime. Which is where we are now. Two babies sleeping and one watching a movie. I'm in coping mode, sitting by the open door, watching it literally rain leaves in the yard, oscillating between thinking "oh how pretty" and "oh, how much raking we'll have to do this weekend." I'm nibbling on my third brownie of the day and contemplating brewing a cup of tea but forcing myself to chug this glass of water instead. I dug out my "Pride and Prejudice" soundtrack. I actuallly have this sheet music. And it's moments like these that I would love, love, love to have a piano. And then I remember it's naptime... and pianos and naptime would hardly work.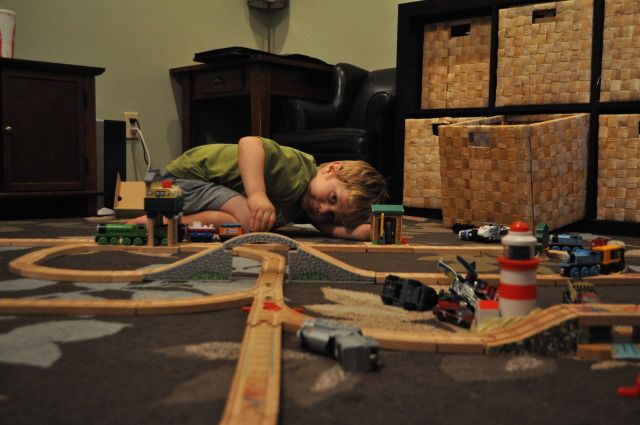 Naptime. When I should be folding that heaping pile of laundry, sweeping up crumbs from lunch, or devising new ways to keep my boys' bathroom smelling fresh. Instead, I'll write. Because writing is therapeutic and heaven knows I need some therapy today.
Check out that shiner. Strangers stop to ask him how he got it, he just runs away to bury his head in my legs. But then Jack proudly pipes up with "I throw tubby toy at him!"
Switching gears now, while I grab Brownie #4, and sub out my water (that strangely tastes like penicillin) for some iced tea, and while my music player changes over to the "Sense and Sensibility" soundtrack ... Jon was home this week, all week. It's nice, or it should be. Unfortunately, he's been working late most nights and when he's not working late he's at the gym prepping for weigh-ins next week. Which means he's only home after the kids go to bed, which is basically like not being home at all. Some nights though, he takes the boys to the gym with him to play in the childcare center. And that makes a huge difference.
Another coping mechanism, long walks in the woods.
When we can't take it anymore, we head to the woods and let the boys run wild. Meanwhile us civilized ladies hang back and watch the leaves float to the forest floor, listen to the birds chirp and take deep gulps of autumnal scented breezes.
Monday was one of those nights he ended up working late. Our Small Group meets on Monday nights for a parenting class, so I was on my own to get the 4 of us ready and out the door. My first mistake was dinner, which I purposely had ready early to give ourselves plenty of time. It went well and even tasted delicious, one of our favorite recipes where you steam tilapia over greens with a dash of red pepper flakes. Blast you red pepper flakes for sending the dish over the edge for my boys. Both of them kept gasping after each bite saying "too hot, Mommy, too hot!" Ironically, Julia at ALL of hers, albeit a bit slower than usual and not without making a few faces. So Jack and Jude are trying to clean their plates so they can have a treat at Small Group, meanwhile I'm refilling their water glasses about 5 times during the meal. Which brings me to the next mistake.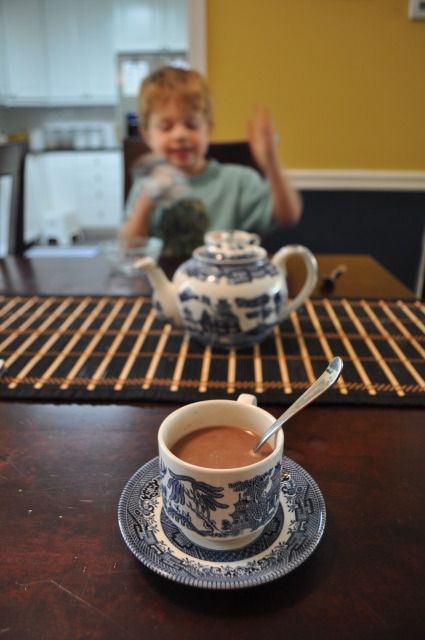 Jack doesn't understand why it's not hot enough for his pool, but he more than gets when it's cold enough for hot cocoa!
Jack just cannot handle a lot of beverage. If he drinks one cup of something, anything, he will literally have to go potty 3-5 times in the next hour. I'm not sure if it's a developmental thing or an actual problem (he's currently visiting the chiropractor right now to see if some adjustments will help with that and his nighttime bedwetting) but for now we just try to be on top of his drinking. Clearly I wasn't thinking this night. He went to the bathroom during dinner. And I made everyone go again before we left, which was surprisingly a little early, and that was good because we didn't get two minutes down the road before Jack started yelling he had to go potty. So we stopped at the closest known restroom, the grocery store, and I unbuckled everyone, herded them through the parking lot and into Safeway for a potty break. Except Jude assured me he did not have to go.
Speaking of Jack and restrooms ... he's always giving something a bath while I'm trying to put the other two down for naps ...
Therein lies my third mistake. Never listen to your child when he tells you he doesn't have to go pee pee. Always insist they try. Because again, we didn't get more than 3 minutes down the road before Jude started yelling that he had to go. And this time I wasn't stopping, because there was no place to stop and we were so close. Alas, not close enough. Poor Jude wore wet pants all through Small Group.
The moral of this story is: always wait to add red pepper flakes until AFTER you've dished out the kids' portions. Or maybe it's: keep a close eye on the amount of water the kids drink right before leaving to go somewhere. Or perhaps: always make your child try to use the restroom when the opportunity presents itself. And then again: remember to carry a back-up set of clothes in your bag at all times. Yes, there are just so many lessons to be had here in just one short evening of my life.
I guess what I'm trying to say is, it's been a long week. And I am tired. And now that it's many, many hours since I started writing this post. And the kids are in bed. And I actually did get around to cleaning the bathroom, sweeping the floor and folding all 4 loads of laundry... there is a book on my Kindle calling my name. Let the weekend begin!